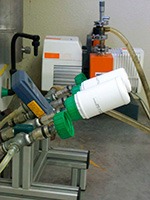 Tournaire Packaging provides a complete range of aluminium and coextruded plastic packaging with different types of closure and different volumes.
These products are suitable for any type of application and comply with international regulations relating to these uses (pharmaceutical, food, animal health, phytosanitary, etc.).
The Tournaire Group offers high-performance and protective products with barriers to gases and solvents: resistance to shocks, fall, compression, chemical attacks, climatic conditions, tamper-evident system…
A dedicated team supervises the self-checking of operators and extensive laboratory tests throughout manufacturing.
 More information? An appointment ? Click here