Tournaire Group's Packaging  Division produces a full range of packaging in aluminum or coextruded plastic with various different closure systems and capacities.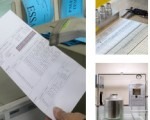 These products are adapted to all types of application and comply with international regulations governing these uses (pharmacy, food, veterinary, plant health, etc.).
The Packaging Division proposes high-performance protective products: able to withstand shocks, fall, compression, chemical aggression, extreme climatic conditions, tamper-proof; etc.
A dedicated team performs product checks throughout the manufacturing process, and rigorous laboratory tests.