Tournaire Packaging provides a complete range of aluminium and extruded plastic packaging with different types of closure and volumes.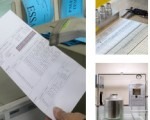 These products are adapted to all types of application and comply with international regulations governing these uses (pharmacy, food, veterinary, plant health, etc.).
Tournaire offers high-performance and protective products: resistance to shocks, drops, compression, chemical attacks, climatic conditions, tamper-evident system, etc.
A dedicated team performs product checks throughout the manufacturing process, and rigorous laboratory tests.