The Tournaire Group offers recyclable products that comply with European regulations on packaging design.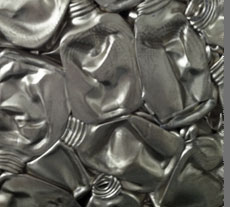 Special attention is thus dedicated to:
the extraction and production of raw materials, their transportation and the packaging used to deliver them to Tournaire
manufacture of containers, recycling of by-products and waste from the manufacturing process, and the packaging of the final product for delivery to the client.
container end-of-life (recycling of the aluminum and plastic, incineration of plastic accessories).
The recycling of aluminum  requires only 5% of the energy used to manufacture the initial product.
The mechanical properties of aluminum are entirely conserved after recycling.
Blow-molding: plastic materials are used for energy production.