Sub-critical water extraction
This process is extremely promising, particularly from an environmental point of view: Tournaire Group's Equipment Division designs and manufactures pilot units or turnkey industrial installations adapted to the specific needs of users.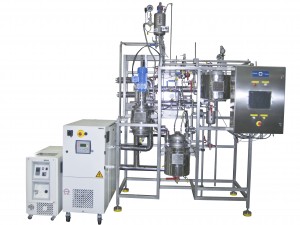 Tournaire also possesses a pilot plant for qualitative tests, which can be performed either on the company's manufacturing site in Grasse or on the user's premises with short or long-term rental. In this case Equipment Division staff provide training before start-up.
When water is heated to high temperature-pressure conditions just below its critical point (374°C-220 bars), it is said to be in a 'subcritical' state. Its chemical structure is modified, with increased  reactivity comparable to that of low-polarity solvents, and increased diffusivity.  Sub-critical water can thus potentially replace organic solvents such as methyl alcohol or acetone for certain applications.
Hydrolysis and selective extraction are two examples of possible industrial applications for this technology, which offers many advantages:
Faster extractions due to better diffusivity of the solvent;
Reduced effluent reprocessing costs and elimination of VOC (volatile organic compound) emissions;
No problems of residual content of potentially toxic solvents in finished product;  
The traditional phase of solvent removal from spent raw materials after extraction is no longer necessary, leading to energy savings;  
Transport costs linked to solvent supply and recycling are considerable reduced or even eliminated.
This process thus clearly corresponds to requirements for safer, more eco-protective chemistry.
Before shipping and installation on client premises a complete series of tests is performed in our laboratories to guarantee correct start-up and performance of the equipment.
More information? An appointment ? Click here