Molecular distillation and distillation materials
For separating, purifying or decolorizing heat-sensitive products, products with high molecular weight or viscosity, products with high melting or boiling point.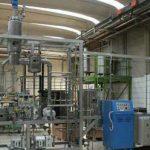 Tournaire's Equipment Division manufactures short-path  molecular distillation units from pilot size to one or two stages for feed rates of 5 to 450 l/h for the perfume and fine chemicals industries
These units are equipped with their own hot-oil heating systems, chilling groups, vacuum groups, and the control cabinets required for operation.
They are composed of:
Storage tanks
Feeding and drawing-off pumps
Evaporators with built-in condenser
Trap condenser
Heating group
Multi-stage vacuum group
Chilling group
Control cabinet
For high-melting-point products the tanks, pipes, valves and pumps are equipped with double-layer heated jackets.
 The evaporator and its stirrer are designed to:
Distribute the product homogeneously over the whole of the heated area
Reduce product retention time
Ensure good mixing and flow of the product
Decrease the thickness of the liquid film
Condense vapors in the evaporator body
Separate distillates from residues
Ensure a good level of tightness under reduced pressure and at high temperature.
Before shipping and installation on client premises a complete series of tests is performed in our laboratories to guarantee correct start-up and performance of the equipment.
Download the molecular distillation brochure by clicking here (EN.pdf)
More information? An appointment ? Click here