Evaporation units and evaporator
The evaporators produced by the Equipment  Division of the Tournaire Group are batch or continuous units operating at atmospheric pressure or under vacuum down 0.1 mbar absolute.
Fields of application cover fine chemicals, pharmaceuticals, food processing and the perfume industry.
These units are designed to take account of specific product features: viscosity, heat sensitivity, foam or crystal formation.
Three different types of heating can be used: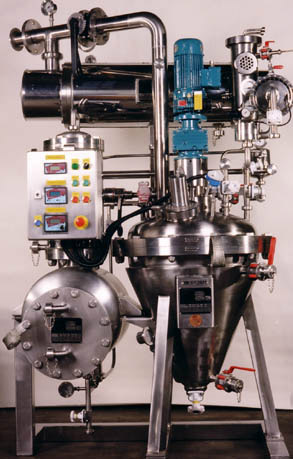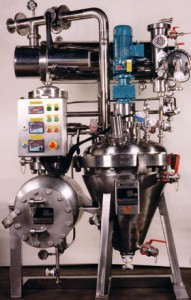 Steam under pressure or vacuum
Hot water
Hot oil.
Evaporator types :
Thin film
Immersed tube
Rising film
Falling film
Thermosiphon
With or without stirring.
The Equipment  Division produces complete units with: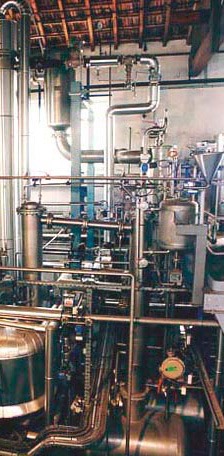 Demister or cyclone
Cooling condenser
Trap condenser
Receiving tank
Drawing-off group
Heating group
Vacuum group with total recycling
Total automation
Flow-rate control
Pressure control
Temperature control.
Controls :
Density
Viscosity
Refraction coefficient
Foam level
For heat-sensitive solutions, units are designed around a falling-film evaporator working down to 0. 1 mbar.
For high-boiling-point products, hot oil up to 300°C is used.
Our extensive experience in this field and our pilot laboratory allow accurate sizing of units and validation of extrapolations to industrial-scale units along with quality control of concentrates.
Before shipping and installation on client premises a complete series of tests is performed in our laboratories to guarantee correct start-up and performance of the equipment.
 More information? An appointment ? Click here