Cylindrical dryers for pharmaceutical use
Tournaire's Equipment Division produces vertical cylinder dryers of two types:
with bottom-mounted stirrer
or dome-mounted stirrer
with or without vertical movement.
They can be equipped with a lump-breaker.
Powder discharge by side chamber lock.
Field of application: pharmaceuticals.
The design of the dryer:
Protects heat-sensitive materials by drying under vacuum at preset temperature
Avoids conglomerate formation thanks to the lump-breaker
Facilitates access to the interior by hydraulic opening of upper or lower door
Ensures tightness of the shaft by double mechanical seal
Avoids condensation by heating of the whole body and the filter
Ensure tightness of the access door by O-ring or metal/metal contact
Avoids carry-over of product particles to condenser and vacuum pump by use of a filter with pneumatic unclogging
Cools dry product prior to discharge
Ensures optimum safety conditions for product, staff and the environment.
Stirrer design facilitates:
Reduction in drying time by adapting agitator rotation speed to product texture
Homogenization of the product through efficient mixing of the whole mass whatever the viscosity
Continuous renewal of product in contact with the heat-exchange surface
Reduction of the quantity of product remaining in the unit after unloading.
Options :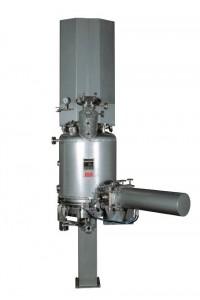 lnerting
Heated stirrer
Sampling cock for solids
In-situ cleaning system
Sterilization
Control of temperature and pressure
Automation of production cycles
Video display of the various stages of production
Version for explosive atmospheres.
Additional equipment :
Heating
Condensation
Cooling
Solvent trap
Vacuum group with total recycling
 Before shipping and installation on client premises a complete series of tests is performed in our laboratories to guarantee correct start-up and performance of the equipment.
More information? An appointment ? Click here