Tournaire Group's Equipment Division designs, manufactures and installs materials processing solutions throughout the world for a wide range of industries.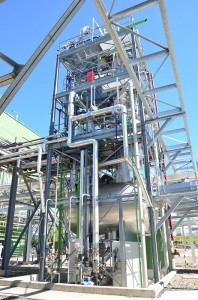 On demand this Division can produce one-off units such as reactors, filter-dryers or rectification columns for chemical, cosmetics, perfume or pharmaceutical companies.
Since its foundation, Tournaire Group's Equipment Division has developed a vast fund of expertise, particularly in the design and development of high-performance processes, not to mention the manufacture, installation and commissioning of pilot or production units.
Today this Division works for in the sectors of fine chemistry, perfumery, cosmetics and food flavors, and also the pharmaceutical industry.
The fundamental added value proposed by the Tournaire Group lies in its unmatched knowledge of natural raw materials extraction. Tournaire is therefore irreplaceable when it comes to offering clients ongoing support for the successful implementation of their projects.
At the heart of its expertise, the engineering skills of Tournaire's Equipment Division can be summed up as follows:
Audit and expert evaluation of existing installations ;
Optimization of existing installations  including support for compliance with regulatory standards: safety, processes, energy efficiency and revamping.
Support in process intensification;
Engineering of client utilities (energy production, network design, etc.) ;
Support for the implementation of specific equipment solutions and/or tailor-made processes
In the framework of a new project, Tournaire helps clients to define their needs, from the pilot implementation through to the industrial-scale solution.
Upstream phase: processing of raw materials: crushing, drying, etc., and transport solutions
Process phase: distillation, extraction, rectification column, etc.
Downstream phase: value-added exploitation of by-products
During manufacture, the construction, pre-erection and tests are carried out entirely in Tournaire Group workshops before shipping. The alloys most frequently used are stainless steel and other high-alloy steels (Hastelloy ®).
All forms of technical assistance – qualification and commissioning of installations, operator training and after-sales service – are provided by technicians and engineers from Tournaire's Equipment Division.
In all circumstances and whatever the specific nature of the product, Tournaire Group thus undertakes to provide a solution corresponding to current requirements in the markets concerned, i.e. ATEX, DESP, Machine directive, etc.
Tournaire Group's Equipment Division possesses numerous references among leading companies in each sector, in more than 70 countries on the six continents. 
More information? An appointment ? Click here